OUR HUEY
HUEY 509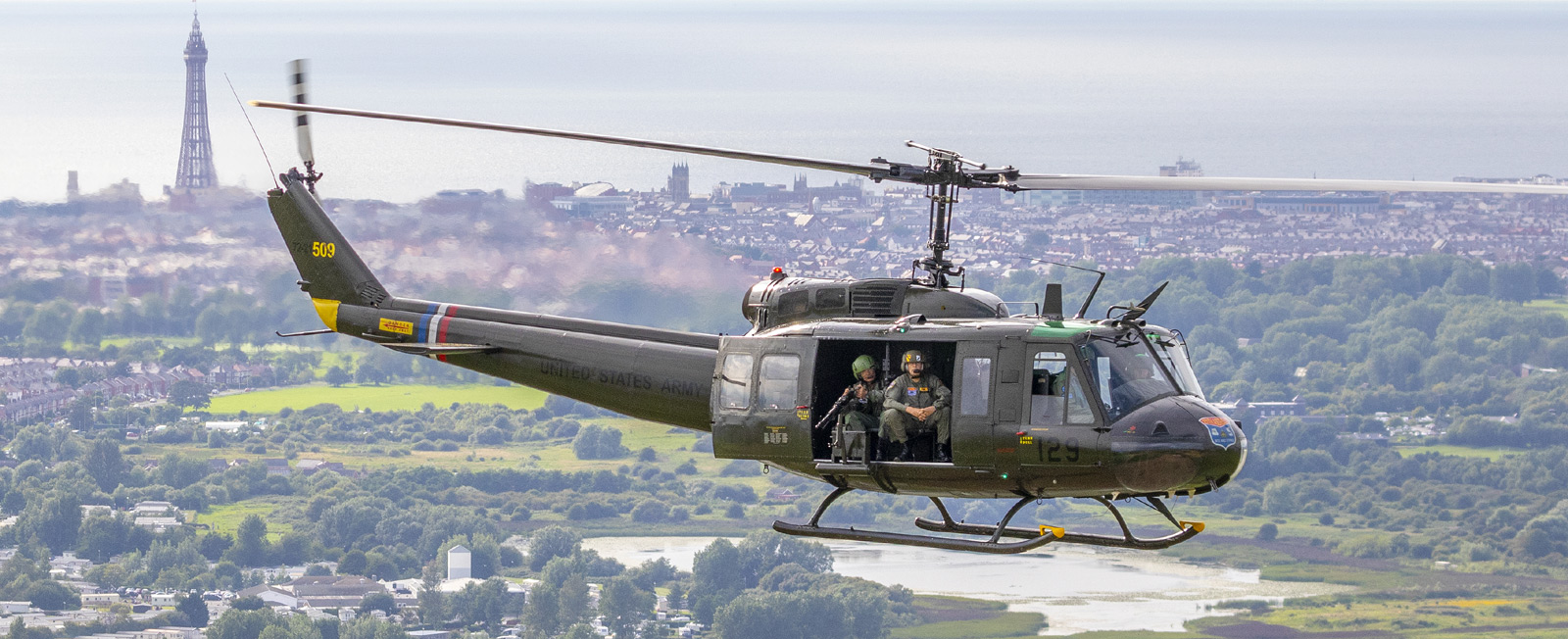 Our Helicopter 'Huey 509' (72-21509) served as part of the 129th Assault Helicopter Company during the Vietnam War and accumulated 559 flying hours in Vietnam Combat Operations.
Huey 509 was purchased by the US Army in 1972 and joined the 129th Assault Helicopter Company in Vietnam in July 1972. Records show she flew 559 combat hours before returning to the US in 1973. Huey 509 served in a Unit, calling themselves 'Bulldogs' (Troop Lift Platoons) and 'Cobras' (Gunship Platoon), with the call sign 'Bite and Strike', 'Huey 509' participated in aerial combat operations until 1973, primarily in support of the US 101st Airborne Division and Republic of Korea Forces. 'Huey 509' suffered combat damage on two flights while on combat operations.
Between 1973 and 1996 she served with the Army National Guard, US Army Troop support and Aviation Readiness Command, the USARASF and was sent to the Aerospace Maintenance Central facility in Arizona in 2000.
We purchased 'Huey 509' in 2003 and commissioned her full restoration. In 2005 she landed on UK soil! Since then we have attended many air shows and events across the country. We are now delighted to be able to offer
Flight Experiences
in this iconic aircraft!
The two year restoration project was completed in May 2005 and the aircraft arrived at its new home near Blackpool, Lancashire on 30th July 2005. 'Huey 509' has been fully restored to flying condition and has authentic 129th livery. Whilst the UH-1H helicopter can carry four crew, pilot, co-pilot, crew chief and door gunner and ten troops, our 'Huey 509' is permitted under UK CAA Regulations to fly with 8 persons on board. It can fly at a speed of 110 knots for a distance of 293 miles.
The helicopter is powered by a Lycoming T53-L13 turbine engine, installed above the fuselage and close to the main rotor unit, just behind the gearbox unit allowing a large cargo hold. This engine produces 1400 shp and has a maximum weight of 9,500 pounds with internal loading. The UH-1H's weapons can be used with great versatility. 'Huey 509' is fitted with two door mounted, de-activated M-60 medium machine guns.
BOOK A FLIGHT IN THE ONLY VIETNAM VETERAN HUEY IN THE UK NOW!!!