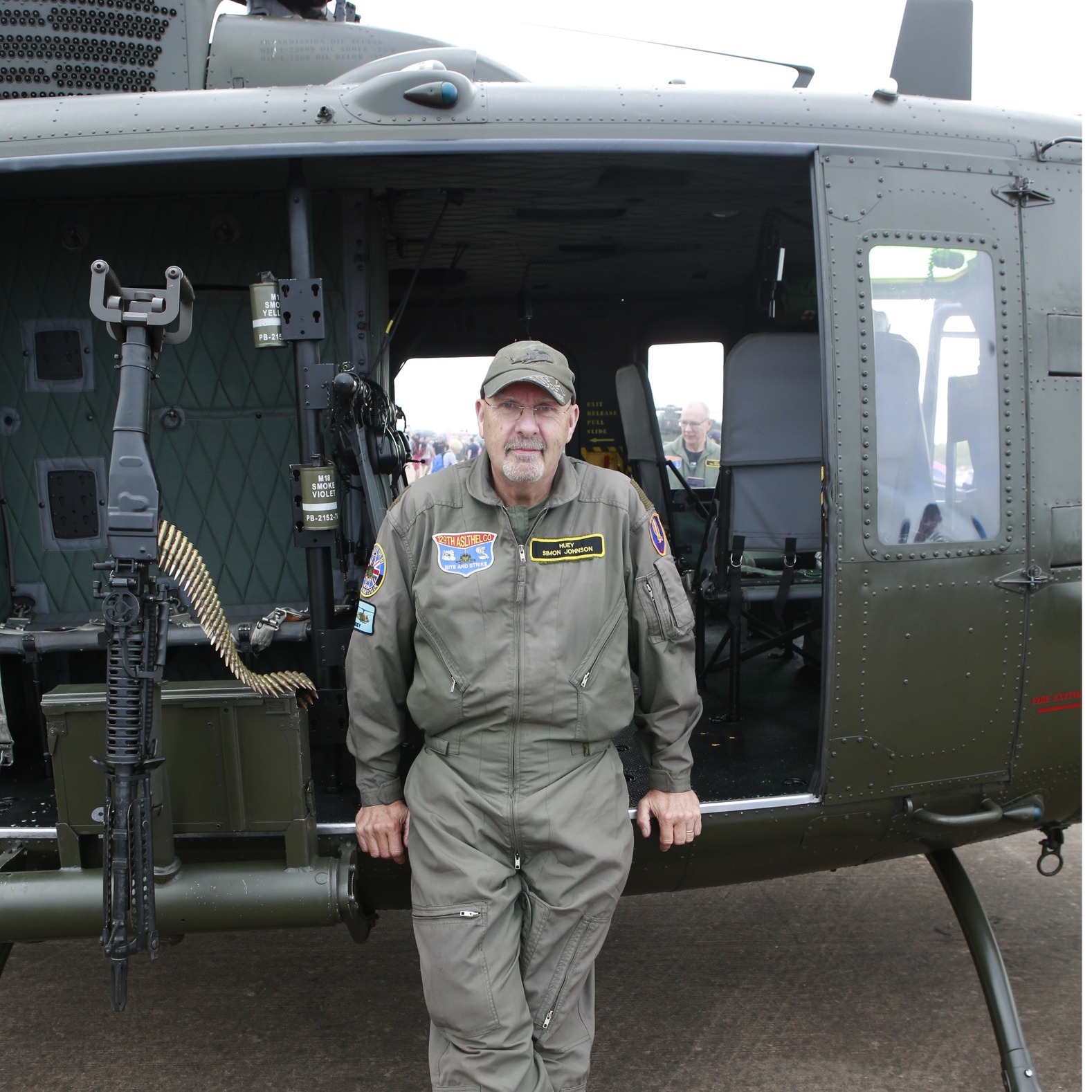 06-05-1957 to 20-05-2023
Simon Johnson
It is with great sadness and heavy hearts that we tell you that Simon Johnson, Huey Crewmaster, passed away on Saturday 20th May in Bolton Hospital with his wife Nina and son Bradley by his side.

From Capt Phil and Jo Connolly
"The first time I met Simon was in June 2005. I had received a call from the BBC as they knew about the Huey coming to the UK and wanted their newsroom guys in on the action. They explained that one of their guys, Simon Johnson, knew a lot about WW2, militaries and aviation so I spoke to Simon on the phone and realised he only lived 20 mins from me. We got together and that was the start of our relationship. In fact Simon was the instigator of getting members of the 129th AHC in the US over to the UK for the BBC filming which was a huge, memorable and humbling occasion which also kickstarted the lasting friendship that we have with those guys. Lots of great memories with Simon of Air Show attendances, flights in Huey and the Loach, hanger events, trips to the US including reunions with the 129th Veterans….. usually (always!) with a whiskey and a laugh. Simon was a wealth of information, a good craic and he will be greatly missed by Jo and I and everyone who was lucky to know him"

From Capt Neil and Heather Airey
"Simon was there when Huey509 came to land in the UK and me Phil and Simon have certificates from the 129th ASLTHEL honorary brothers as he travelled over with us to the USA, he was our first crew chief and with his filming skills he really paved the way for Huey509 to be seen and heard (of course) here in the UK and on the internet around the world. Up until 2022 Simon was a very active member always in green and we never saw him in anything else, trundling to events in his Jeep. He loved attending the Normandy event with Nina. His son Bradley branched out and now has his own military vehicles following in his dads' footsteps and attends our open days as one of the reenactors. Simon always had a sense of humour and he and I ended up sharing a bed one night when we got weathered in near Dumfries. We spend the night at the mercy of the very kind locals until the weather cleared the next day.

We will miss him immensely."

From Capt Dick and Tracey Barton
"I met Simon almost 10 years ago when I joined the Huey team to fly the Loach. He was ever enthusiastic and loved aviation and the Vietnam era and was especially fond of the Huey. From the outset he made me incredibly welcome and I had the pleasure of flying him many times in the Loach. Portrush was the highlight of our trips away and I vividly remember him struggling into the immersion suit and life jacket. Once suited up the contortions that we both went through squeezing into the tiny cockpit had us laughing nervously about how or even if we'd get out if we ditched. Fortunately, we didn't and flying those long trips with him was a delight. He loved role playing and dressing in all the gear and he was never happier than when in fatigues - his enthusiasm for all things military, air or ground, was infectious. I'll remember him as enthusiastic, knowledgeable and generous in equal measure. But above all I'll remember him as a kind friend whose company I enjoyed very much."