HUEY HELICOPTER HISTORY
HUEY UH-1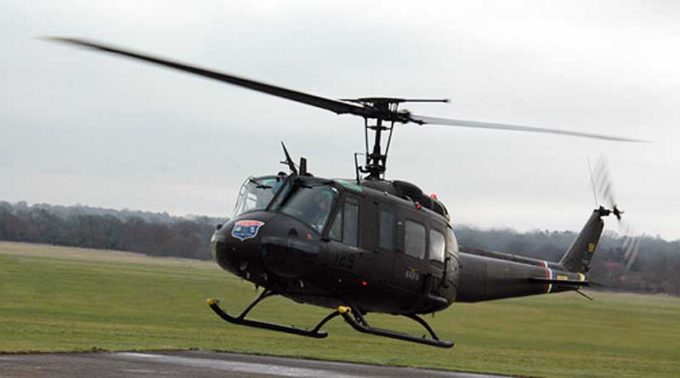 The military helicopter Bell UH-1 series was designed and built by the Bell Helicopter Company in the late 1950s as a multipurpose machine. It has become synonymous with the Vietnam War, being used to transport troops and equipment as well as for air assault missions.

A total of 4869 helicopters were lost by US forces in Vietnam, the biggest losses, 2591 aircraft, being sustained by the US Army.

Huey 509 was purchased by the US Army in 1972 and joined the 129th Assault Helicopter Company in Vietnam in July 1972. Records show she flew 559 combat hours before returning to the US in 1973. Between 1973 and 1996 she served with the Army National Guard, US Army Troop support and Aviation Readiness Command, the USARASF and was sent to the Aerospace Maintenance Central facility in Arizona in 2000.

We purchased Huey 509 in 2003 and commissioned her full restoration. In 2005 she landed on UK soil! Since then we have attended many air shows and events across the country. We are now delighted to be able to offer Flight Experiences in this iconic aircraft!

Fact Time: The original designation of HU-1 (Helicopter Utility) led to the helicopter's nickname of Huey. In September 1962, the designation was changed to UH-1, but "Huey" remained in common use.

BOOK A FLIGHT IN THE ONLY VIETNAM VETERAN HUEY IN THE UK NOW!!!